I couldn't think of a title for this post so it came to this. >.< But anyways I feel like I've really been behind on great old and new books. So here's a list of the books I hope to read in the future and hopefully get great responses about when I post reviews about them! Oh and tell me if you guys like the way I positioned the books or not. ;)
By: Emily Henry
Published: March 26, 2016
Natalie Cleary must risk her future and leap blindly into a vast unknown for the chance to build a new world with the boy she loves.
Natalie's last summer in her small Kentucky hometown is off to a magical start... until she starts seeing the "wrong things." They're just momentary glimpses at first—her front door is red instead of its usual green, there's a pre-school where the garden store should be. But then her whole town disappears for hours, fading away into rolling hills and grazing buffalo, and Nat knows something isn't right.
That's when she gets a visit from the kind but mysterious apparition she calls "Grandmother," who tells her: "You have three months to save him." The next night, under the stadium lights of the high school football field, she meets a beautiful boy named Beau, and it's as if time just stops and nothing exists. Nothing, except Natalie and Beau.
Looking at this foreword, I'm totally know that this will be a roller coaster of feels. I really want to read this book, but I'm afraid that the book might be too hyped up. *which I hope its not*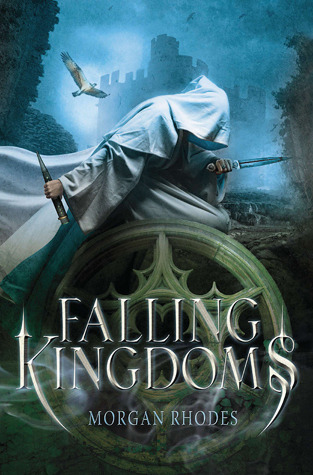 Title: Falling Kingdoms
By: Morgan Rhodes
Published: December 11, 2012
In the three kingdoms of Mytica, magic has long been forgotten. And while hard-won peace has reigned for centuries, a deadly unrest now simmers below the surface.
As the rulers of each kingdom grapple for power, the lives of their subjects are brutally transformed... and four key players, royals and rebels alike, find their fates forever intertwined. Cleo, Jonas, Lucia, and Magnus are caught in a dizzying world of treacherous betrayals, shocking murders, secret alliances, and even unforeseen love.
The only outcome that's certain is that kingdoms will fall. Who will emerge triumphant when all they know has collapsed?
It's the eve of war.... Choose your side.
Princess: Raised in pampered luxury, Cleo must now embark on a rough and treacherous journey into enemy territory in search of magic long thought extinct.
Rebel: Jonas, enraged at injustice, lashes out against the forces of oppression that have kept his country cruelly impoverished. To his shock, he finds himself the leader of a people's revolution centuries in the making.
Sorceress: Lucia, adopted at birth into the royal family, discovers the truth about her past—and the supernatural legacy she is destined to wield.
Heir: Bred for aggression and trained to conquer, firstborn son Magnus begins to realize that the heart can be more lethal than the sword....
By: April Tucholke
Published: August 15, 2013
You stop fearing the devil when you're holding his hand…
Nothing much exciting rolls through Violet White's sleepy, seaside town… until River West comes along. River rents the guest house behind Violet's crumbling estate, and as eerie, grim things start to happen, Violet begins to wonder about the boy living in her backyard.
Is River just a crooked-smiling liar with pretty eyes and a mysterious past? Or could he be something more?
Violet's grandmother always warned her about the Devil, but she never said he could be a dark-haired boy who takes naps in the sun, who likes coffee, who kisses you in a cemetery... who makes you want to kiss back.
Violet's already so knee-deep in love, she can't see straight. And that's just how River likes it.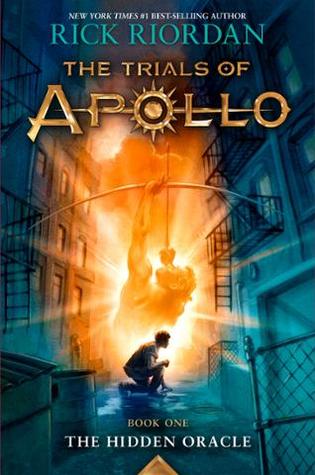 Title: The Trials of Apollo
By: Rick Riordan
Published: May 3, 2016
How do you punish an immortal?
After angering his father Zeus, the god Apollo is cast down from Olympus. Weak and disorientated, he lands in New York City as a regular teenage boy. Now, without his godly powers, the four-thousand-year-old deity must learn to survive in the modern world until he can somehow find a way to regain Zeus's favor.
But Apollo has many enemies - gods, monsters and mortals who would love to see the former Olympian permanently destroyed. Apollo needs help, and he can think of only one place to go . . . an enclave of modern demigods known as Camp Half-Blood.
First of all, omg I cannot contain my feels and excitement about another Greek mythology book that might have Percy and the gang in it!!! :D It comes out literally tomorrow and I cannot wait!!!! I know that some people feel that Rick is just trying to get more money, but seriously if you have time to be hating/complaining about the book why are you even there?! I don't mean to start anything but like seriously some of us don't care if Rick is doing this to get more money or not, cause we absolutely would love to see more of the old gang even if they aren't the main characters!
By: Ally Condie
Published: March 29, 2016
It's the first real summer since the devastating accident that killed Cedar's father and younger brother, Ben. But now Cedar and what's left of her family are returning to the town of Iron Creek for the summer. They're just settling into their new house when a boy named Leo, dressed in costume, rides by on his bike. Intrigued, Cedar follows him to the renowned Summerlost theater festival. Soon, she not only has a new friend in Leo and a job working concessions at the festival, she finds herself surrounded by mystery. The mystery of the tragic, too-short life of the Hollywood actress who haunts the halls of Summerlost. And the mystery of the strange gifts that keep appearing for Cedar.
Infused with emotion and rich with understanding, Summerlost is the touching middle grade debut from Ally Condie, the international bestselling author of the
Matched
series, that highlights the strength of family and personal resilience in the face of tragedy.
I'm really looking forward to reading this book, as I did read the Matched series and thoroughly loved the author's writing style. This book to me gives a feeling of nostalgic, and wanderlust.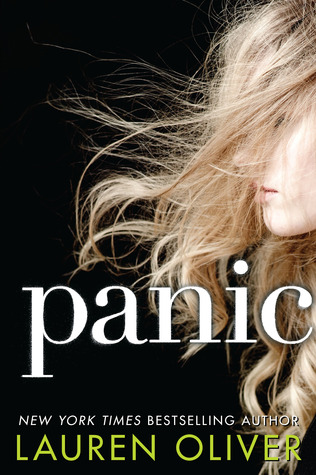 Title: Panic
By: Lauren Oliver
Published: March 4, 2014
Panic began as so many things do in Carp, a dead-end town of 12,000 people in the middle of nowhere: because it was summer, and there was nothing else to do.
Heather never thought she would compete in Panic, a legendary game played by graduating seniors, where the stakes are high and the payoff is even higher. She'd never thought of herself as fearless, the kind of person who would fight to stand out. But when she finds something, and someone, to fight for, she will discover that she is braver than she ever thought.
Dodge has never been afraid of Panic. His secret will fuel him, and get him all the way through the game, he's sure of it. But what he doesn't know is that he's not the only one with a secret. Everyone has something to play for.
For Heather and Dodge, the game will bring new alliances, unexpected revelations, and the possibility of first love for each of them—and the knowledge that sometimes the very things we fear are those we need the most.
By: Diana Peterfreund
Published: June 12, 2012
It's been several generations since a genetic experiment gone wrong caused the Reduction, decimating humanity and giving rise to a Luddite nobility who outlawed most technology.
Elliot North has always known her place in this world. Four years ago Elliot refused to run away with her childhood sweetheart, the servant Kai, choosing duty to her family's estate over love. Since then the world has changed: a new class of Post-Reductionists is jumpstarting the wheel of progress, and Elliot's estate is foundering, forcing her to rent land to the mysterious Cloud Fleet, a group of shipbuilders that includes renowned explorer Captain Malakai Wentforth--an almost unrecognizable Kai. And while Elliot wonders if this could be their second chance, Kai seems determined to show Elliot exactly what she gave up when she let him go.
But Elliot soon discovers her old friend carries a secret--one that could change their society... or bring it to its knees. And again, she's faced with a choice: cling to what she's been raised to believe, or cast her lot with the only boy she's ever loved, even if she's lost him forever.
By: Alexandra Bracken
Published: January 5, 2016
i. A brief section of music composed of a series of notes and flourishes.
ii. A journey by water; a voyage.
iii. The transition from one place to another, across space and time.
In one devastating night, violin prodigy Etta Spencer loses everything she knows and loves. Thrust into an unfamiliar world by a stranger with a dangerous agenda, Etta is certain of only one thing: she has traveled not just miles but years from home. And she's inherited a legacy she knows nothing about from a family whose existence she's never heard of. Until now.
Nicholas Carter is content with his life at sea, free from the Ironwoods—a powerful family in the colonies—and the servitude he's known at their hands. But with the arrival of an unusual passenger on his ship comes the insistent pull of the past that he can't escape and the family that won't let him go so easily. Now the Ironwoods are searching for a stolen object of untold value, one they believe only Etta, Nicholas' passenger, can find. In order to protect her, he must ensure she brings it back to them—whether she wants to or not.
Together, Etta and Nicholas embark on a perilous journey across centuries and continents, piecing together clues left behind by the traveler who will do anything to keep the object out of the Ironwoods' grasp. But as they get closer to the truth of their search, and the deadly game the Ironwoods are playing, treacherous forces threaten to separate Etta not only from Nicholas but from her path home... forever.
Wow I didn't know that this was by the same author that wrote the Darkest Minds! :O But anyways whoa the plot of this book sounds really unique and a lot different from any of the books I have ever read.
By: Jandy Nelson
Published: September 16, 2014
Jude and her twin brother, Noah, are incredibly close. At thirteen, isolated Noah draws constantly and is falling in love with the charismatic boy next door, while daredevil Jude cliff-dives and wears red-red lipstick and does the talking for both of them. But three years later, Jude and Noah are barely speaking. Something has happened to wreck the twins in different and dramatic ways . . . until Jude meets a cocky, broken, beautiful boy, as well as someone else—an even more unpredictable new force in her life. The early years are Noah's story to tell. The later years are Jude's. What the twins don't realize is that they each have only half the story, and if they could just find their way back to one another, they'd have a chance to remake their world.
I'm really taking a liking to contemporary books, and well this book is something that I've heard a lot of good things about so I'm gonna give it a try. The situation in this book sounds really interesting as we see how two kids who were so much a like find themselves repairing their lost relationship even with their seemingly clashing personalities.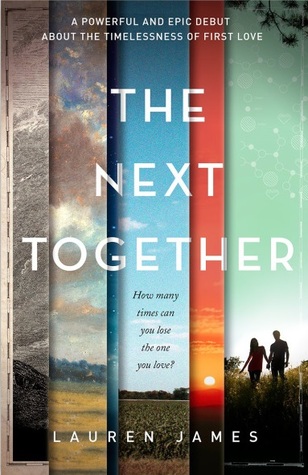 Published: September 3, 2015
How many times can you lose the person you love?
Katherine and Matthew are destined to be born again and again, century after century. Each time, their presence changes history for the better, and each time, they fall hopelessly in love, only to be tragically separated.
Spanning the Crimean War, the Siege of Carlisle and the near-future of 2019 and 2039 they find themselves sacrificing their lives to save the world. But why do they keep coming back? What else must they achieve before they can be left to live and love in peace?
Maybe the next together will be different...
Well honestly just looking at the plot of this book, I think I'm either gonna be crying or smiling the whole way through it. Cause "How many times can you lose the person you love?", phew that's already making me feel sad. So this is definitely a must read for me because as strange as this is, I think I'm in need of a book that will make me cry.
This is my daily rant about books! So have any of you guys read these books? If you have feel free to discuss it with me by commenting! ♥
Until then, Cindy :)